Chevaline DEXX
Liquid applied flexible reinforced membrane
A liquid applied, glass-fibre mat reinforced membrane for use in sealing old and new flat and near flat roofs, walk-out decks and patios. Particularly useful where areas are subject to foot traffic and light vehicular traffic.  Topcoats are available for various service conditions. Can also be used on specified substrates as a waterproof membrane under tiles.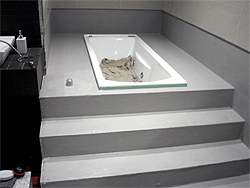 Schomburg Aquafin 2-KM
Flexible two component waterproofing coating
Safe and economic waterproofing beneath tiles in wet rooms, where water impermeability against long term and permanent water table is demanded. i.e. in bathrooms, kitchens, shower rooms, on balconies and terraces. Also for waterproofing inside swimming pools.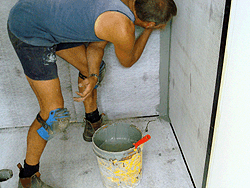 Schomburg Unifix 2K/6
Highly flexible thin-bed adhesive, grey
Used as a thin-bed adhesive for adhering vitrified and earthenware tiles, ceramic with low water absorption ≤ 0.5% (fully vitrified), clinker, mosaic and natural stone that is neither translucent nor sensitive to discolouration. Suitable for securely adhering tiles to all substrates in acc. with DIN 18157, part 1, e.g. concrete, porous concrete, plaster, cement based and calcium sulphate screeds/heated screeds, brickwork, plaster board etc. as well as to existing, well bonded tiled finishes.
Chevaline COVERFLEXX NF
High build flexible exterior bodycoat
A high-build elastomeric membrane for use in exterior situations as an encapsulant, particularly for asbestos containing materials, and as a waterproof membrane under tiled surfaces in ponded situations.