De Boer DEBOFLEX CS/F K180 SPECIAL
For waterproofing of underground structures and screed protected areas in construction
Especially designed to resist underground soil settlement in basment, tunnels, underpasses and retaining wall construction. Pre-formed torch-on membrane manufactured in the De Boer ISO 9001 controlled factory in Belgium. The system is applicable on moist and dusty areas. After installation the system is not dependent on the weak lean concrete tidy slab, or compacted fill, but remains integral with the main concrete slab.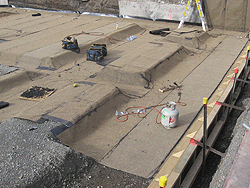 Schomburg COMBIFLEX-DS
Elastic surface waterproofing emulsion
A solvent free ready-for-use combination of bitument and polymers, which forms an elastic seamless waterproof membrane. Suitable for the waterproofing of soil contracting areas against humidity and non-pressure water. On structure dense concrete Combiflex-DS will also be used againse pressure water. Furthermore Combiflex-DS is suitable as a horizontal waterproofing layer against rising humidity on separated screed or screed on heat insulating materials.