Schomburg Aquafin IC
Crystalline waterproof slurry
Exterior and interior waterproofing in cellars, lift shafts, foundations, retaining walls. Waterproofing containers for drinking and service water, retaining basins, water treatment plants, garages, tunnels etc. Waterproofing beneath screeds (unbonded screeds or floating screeds).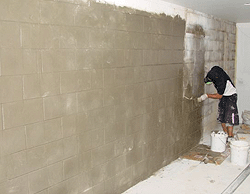 Schomburg Aquafin 1-K
Waterproofing slurry
Waterproofing on concrete, masonry and plaster, for interior and exterior use in the following areas of application:
Civil engineering – earth covered constructions, sewage works, water tanks, swimming pools, heating pipes, pits etc.
Building construction – cellars, potable water tanks.
Water construction – retaining walls, pools, tunnels, sluices.
Older building constructions – not protected against posterior moisture and soaking water.
Schomburg Aquafin 2-KM
Flexible two component waterproofing coating
External waterproofing of old and new buildings against ground moisture, humidity, pressure water.  Horizontal waterproofing beneath masonry. Internal waterproofing against humidity from outside.  For waterproofing of underground carparks, prefabricated garages, containers, service water tanks, liquid manure contrainers, canalisation, areas of high humidity, terraces, balconies and swimming pools. Safe and economic waterproofing beneath tiles in wet rooms, where water impermeability against long term and permanent water table is demanded, i.e. in bathrooms, kitchens, shower rooms, on balconies and terraces.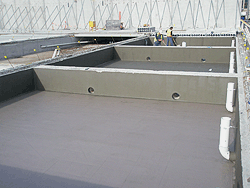 Schomburg Aquafin CJ-3
Bentonite joining – with water stop swelling gasket
A well-developed bentonite joint swelling gasket which is very economic and safe to use, compared to usual joint sealing methods (PVC joint tape, joint sheets etc.) It is used for the waterproofing of construction joints being subject to ground, slope and surface water, permanently or only temporarily.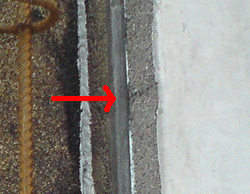 Schomburg Aquafin CJ-6
Thermoplastic expansive waterstop for waterproofing construction joints
Aquafin CJ-6 is used for the internal waterproofing of construction joints in concrete constructions, where there is a constant or intermittent exposure to ground water, run-off water or surface water. It can be applied in zones where the water level is in constant change without problem.  The construction joints can be formed watertight against water under pressure to a depth of 8 m.